New Hydrawise Updates Provide Site Management Flexibility, Faster Account Setup, More Controller Sorting Options, New Rain Sensor Alerts, and More
We're dedicated to giving you the tools you need to work smarter, build your business, and provide great service to your customers. Continuous improvement is part of our mission to remain your first choice for irrigation management.
Thanks your feedback, we have made several improvements to our software to simplify zone suspension, speed up report generation, provide rain sensor alerts, streamline account creation, find controllers faster, add customers to special Watch Lists, and more. Check out the full list of updates below.
Suspending Zones, Controllers, and Customers
Hydrawise can suspend watering during particular time periods. We enhanced this function to add new capabilities based on your feedback. Now, you can preload suspensions.
To do so, select any Zone from the Home screen and click the Pause button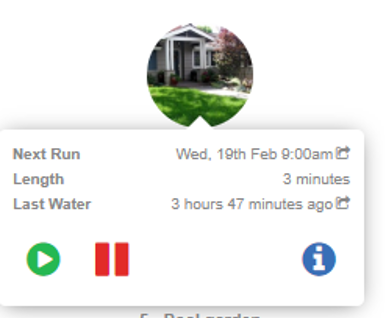 This will open a new window that offers several Suspend functions. It works just like our Remote functionality.
Suspend a Single Zone Follow the steps below to suspend a single zone.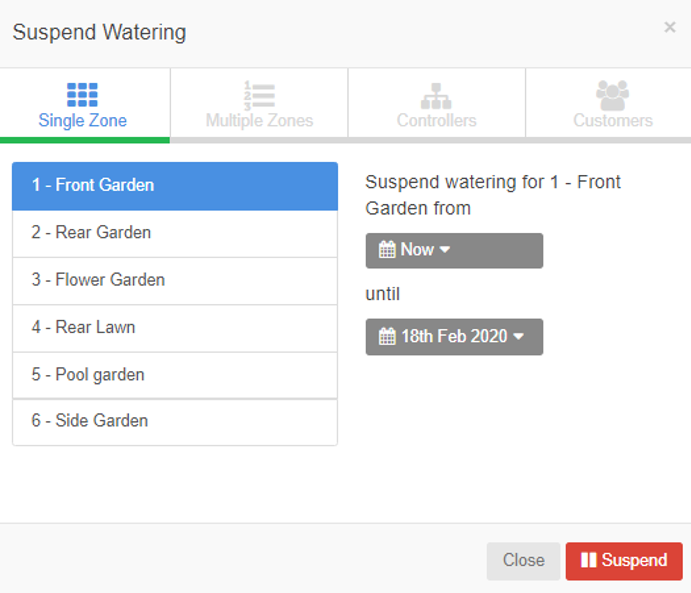 In this example, we added two suspensions to the zone.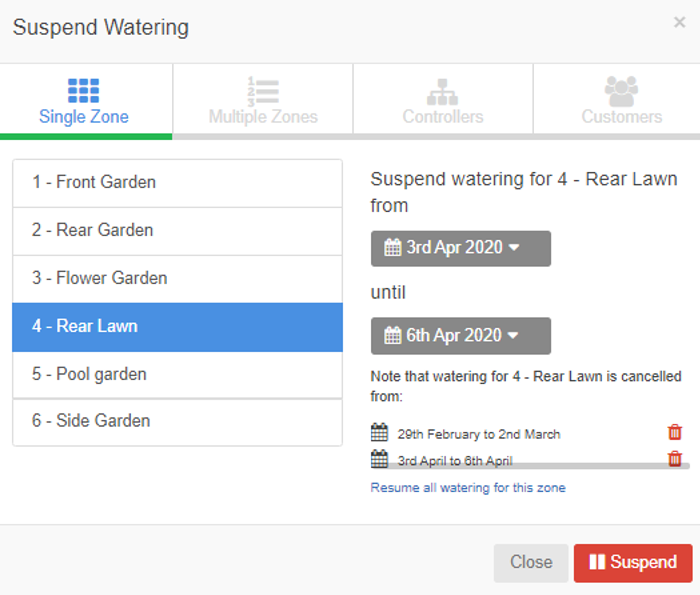 All other zones will continue operating normally. Outside of the designated time frames, all watering for this zone will continue operating normally as well.
Suspending for Multiple Zones You can also suspend multiple zones.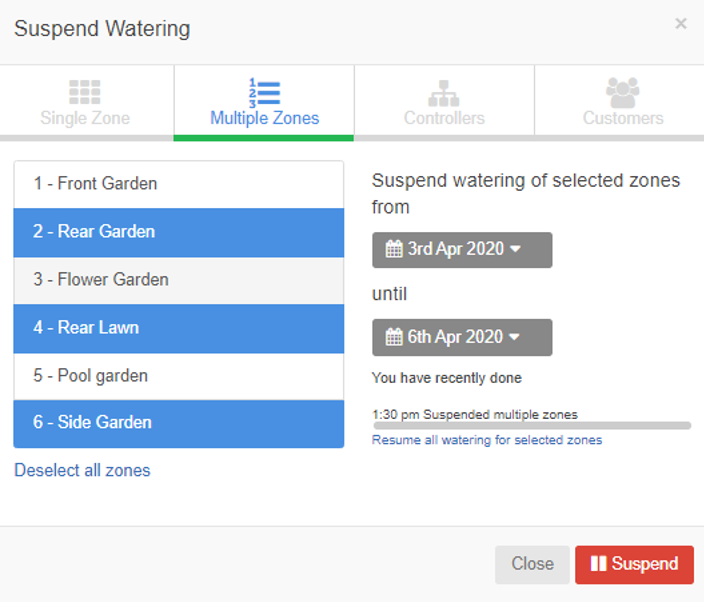 Suspend Controllers
Contractors, councils, and local governments can use the Multi-Site Manager to suspend watering by controller, multiple controllers, customer, or location.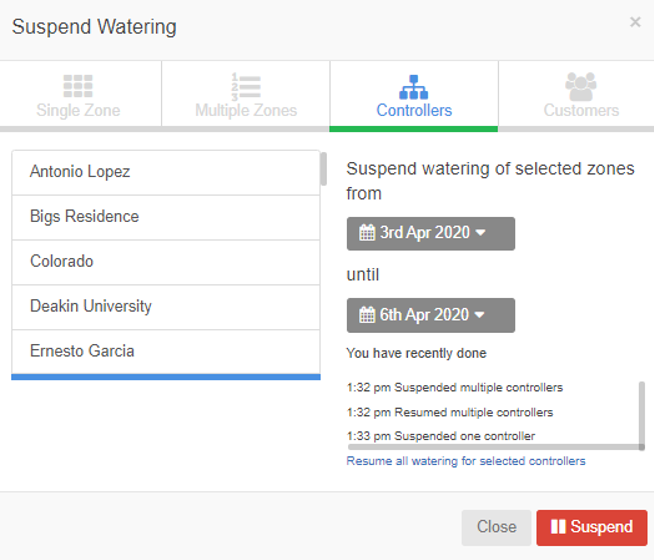 Suspend Customers
This function will simplify winterization and improve remote site management.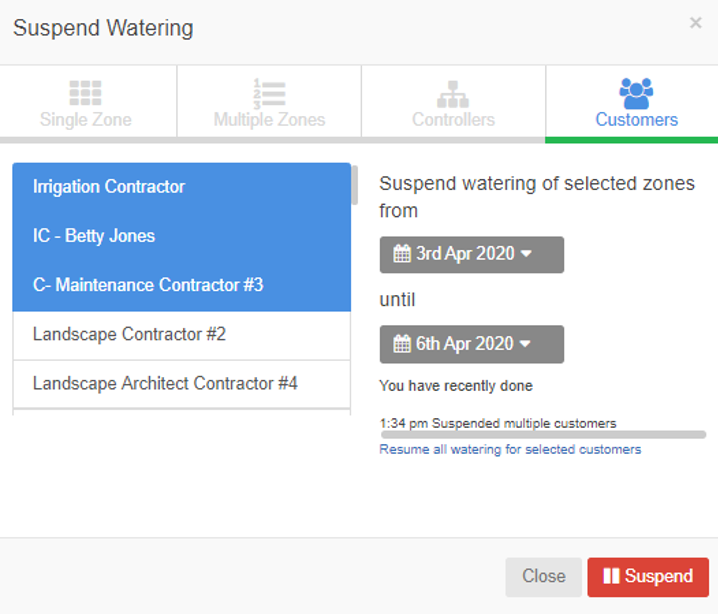 Reports
We have improved the loading speed for our reports to help you access critical information even faster.
Hydrawise gives you exactly the information you need to make the best choices related to irrigation management. We are one of the only manufacturers to monitor the flow, electrical, and user changes. We also let you compare the proposed irrigation schedule to the actual schedule (what actually happened) and log all manual starts.
Reports are available from the Home screen (simply click on any zone). You can also use the Reports button for more detailed reporting.
New Accounts
We'll now send you an email to confirm your account.
Click the
tab on your phone to access the Hydrawise app. This makes for a quick and easy start.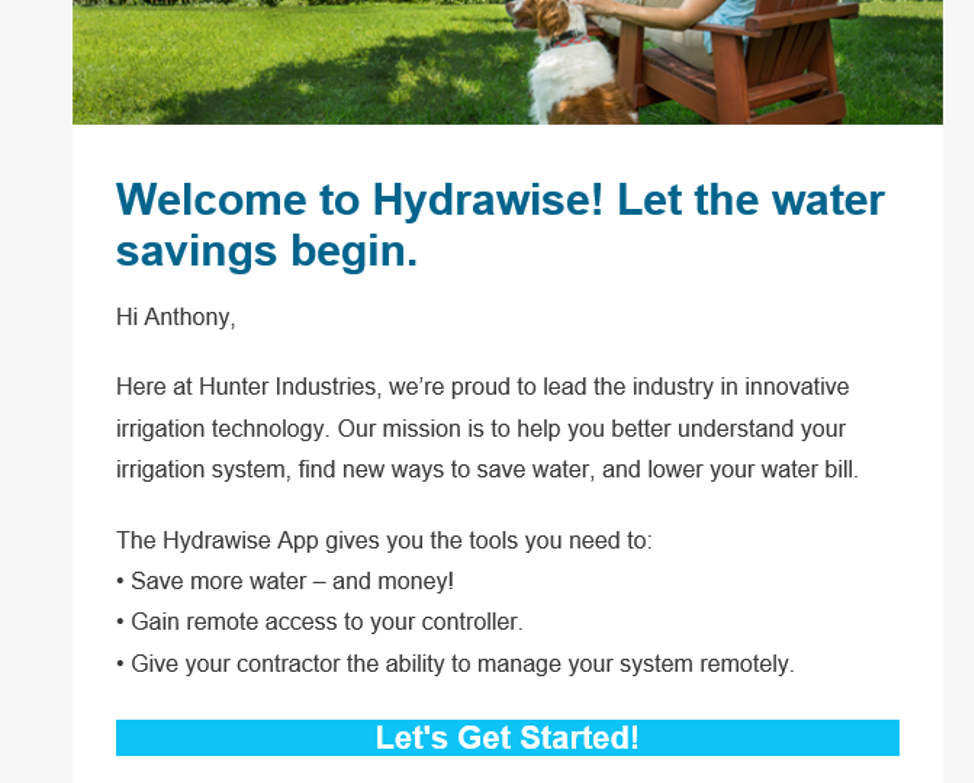 Alert for Rain Sensor change
We added a new alert so you can see if your Rain Sensor has changed from Wet to Dry or Dry to Wet.
Setting the alert is eas y. First, open your Alerts tab.
Computer View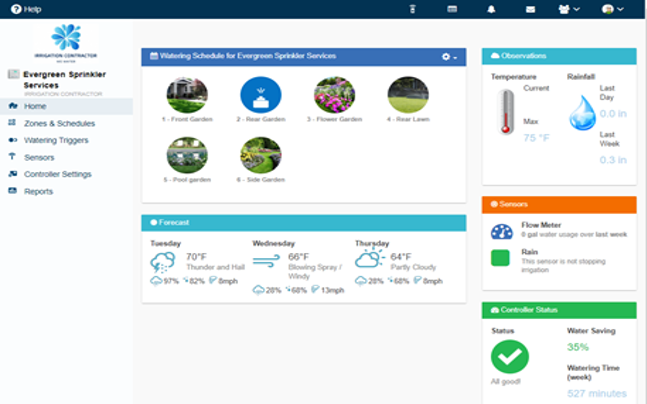 Mobile View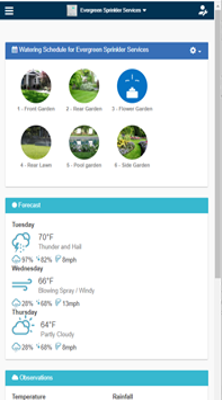 Then access the Multi-Site Manager tool and click on Customer-Wide Settings.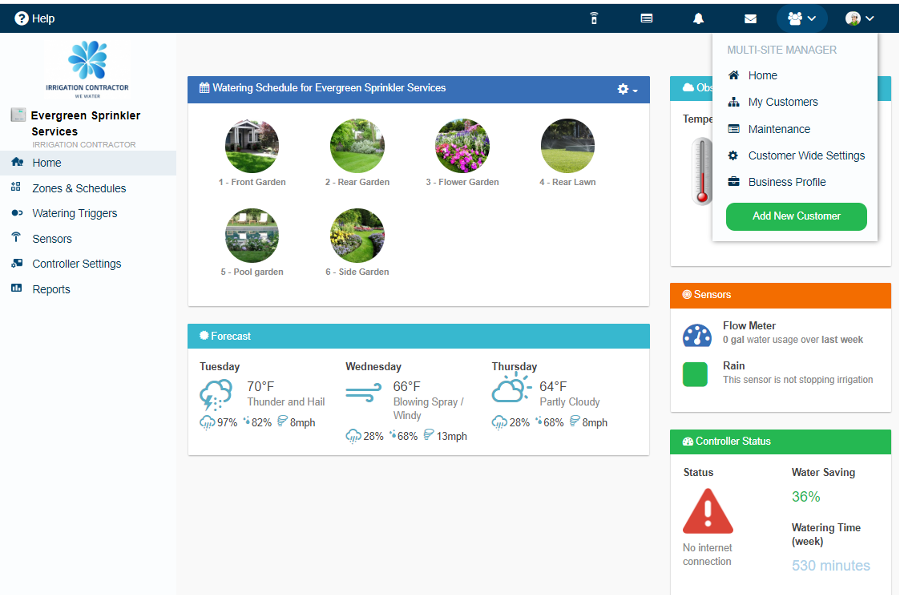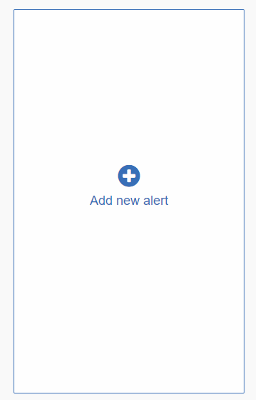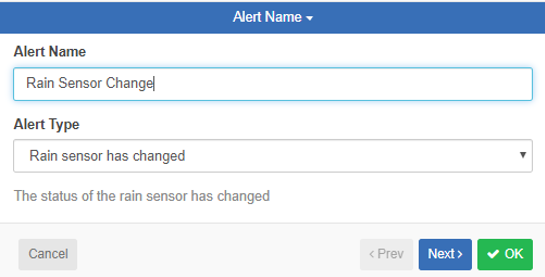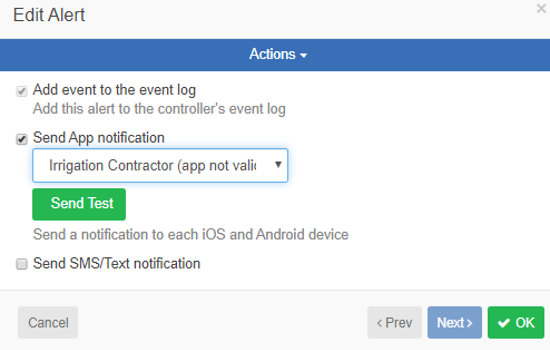 Controller Selection Improvements
We've added five new enhancements to help contractors find controllers faster:
Watch Lists
Location Sort
Alphabetical Sort
Last used sort
Moving between customer is now much quicker
Watch List
You can now easily group select customers into Watch Lists. This function is useful for customers who are on vacation and want you to take special care of their property, your most important customers, or customers who pay you a premium for additional monitoring.
Click to open your Controller Selection Tab.
Computer View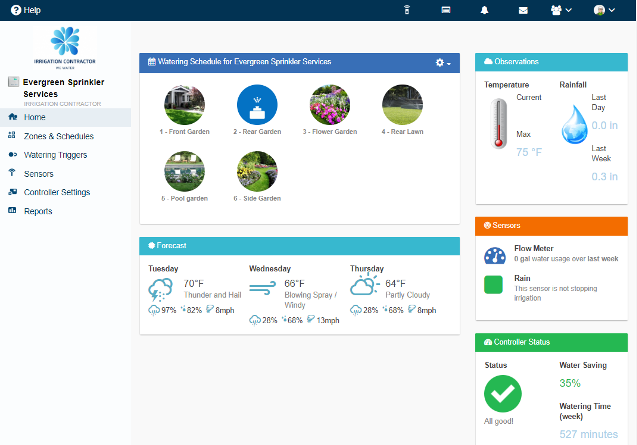 Mobile View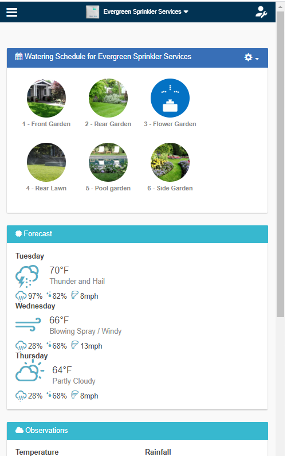 First, notice this new window.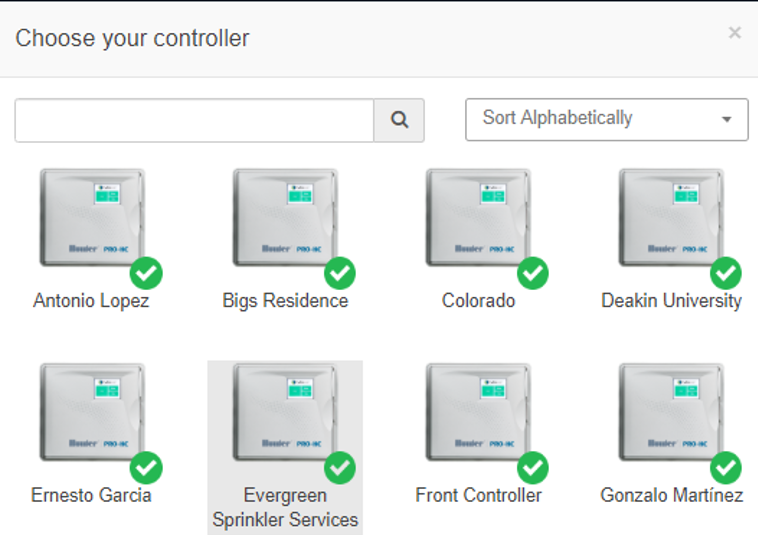 Click the arrow in the window.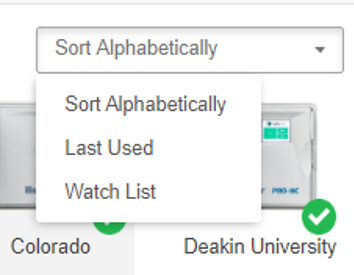 Then, select Watch List.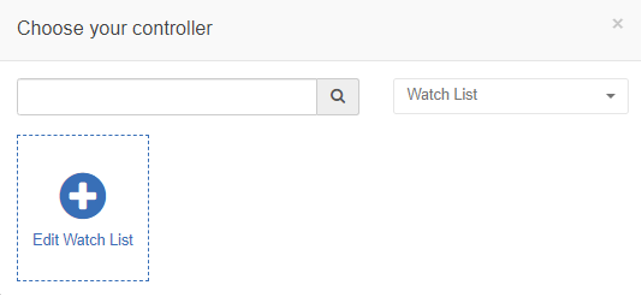 Finally, choose Edit Watch List.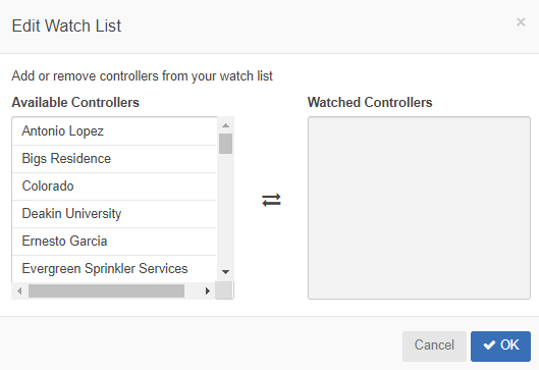 The selected customers are now much easier to find.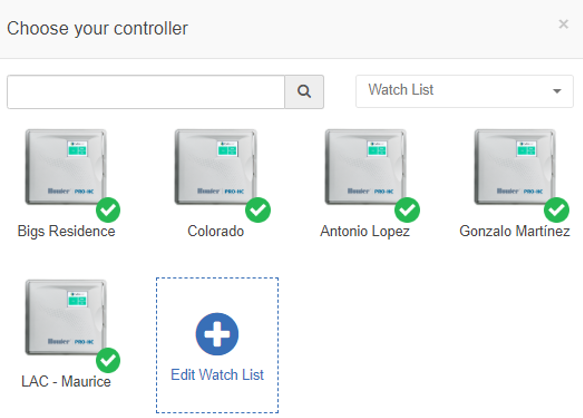 Sort Controllers by Location
You can now sort your controllers based on location from your Hydrawise app on your iOS® or Android™ smartphone. To do so, update your app to the latest version and allow Hydrawise to use your location. Select Location from the Controller Selection List and Hydrawise will organize controllers based on the closest to your present location to farthest away.
Controller Watch List: Extra Tools
You can now sort your Controller Selection List using the following methods:
Alphabetically: 1–10 and A to Z
Last Used: From most recently viewed controller to never viewed
We've also increased the speed at which you can move customer controllers using the Controller Selection Tab.
Contractor Email Notification if a Customer Blocks Access
End users can remove you as the manager of their system. If they do, we'll send you a courtesy email to let you know.