Hydrawise Cloud Software Pricing and Plans
Expand your system with a Subscription plan.
Hydrawise Ready Wi-Fi Controllers
A Hydrawise system starts with a Hunter Hydrawise Ready controller and optional sensors. Once connected to the internet, you will start saving water and be able to control your system via your smartphone or web browser.
See all Hydrawise Ready Wi-Fi Hardware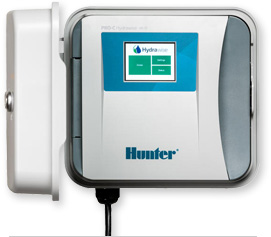 Hydrawise Plans and Pricing
The Hydrawise system is free for most users worldwide. The Weather Underground award-winning forecasting and airport weather stations meet the needs of the typical user. For those interested in even more water-savings, the hyper-local weather feature in the Enthusiast Plan provides access to more than 100,000 personal, airport and official weather stations, and allows you to monitor five weather stations at your location.
Homeowner Plans
---
Features

Home

Enthusiast

Hyper-local Rainfall Monitoring from Weather

Yes

Yes

Notification for Alerts
Hydrawise App
Text (SMS) and Hydrawise App
Number of Users

(login account per Customer Plan)

1
5
Number of Controllers

per Customer Plan

3
5
Attach Images to Zones
25 MB
100 MB
Reporting History
30 days
365 days
Plans and File Storage
25 MB
100 MB
Start Watering Based on Sensor Input

Yes

Yes